Botox
Botox, Dysport, and Xeomin are examples of neurotoxin or Botulinum toxin A that are injected into muscles and relax the muscles. From a cosmetic standpoint, the result is either to smooth facial lines caused by the muscle creasing the skin (11's, forehead, crows feet), decrease muscle bulk (masseters or mentalis), or to decrease the strength of muscles that cause pulling of facial structures or skin (gummy smile or neckbands). Botox has even been studied for depression with results that exceeded the expectations of researchers.
Botox has been studied and is now being used to treat many medical conditions. The list includes but is not limited to: migraines; overactive bladder; blepharospasm (eye twitching); hyperhidrosis (excess sweating); muscle contractures (torticollis, cerebral palsy; stroke).
Fillers
Dermal fillers are used to restore volume in the face that has been lost due to the effects of aging and sometimes weight loss. As we age the skin becomes thinner, drier, and less elastic, collagen diminishes. The layer of fat between the skin and underlying structures is less. Bone resorption occurs, especially in menopausal and postmenopausal women, without the structural support of bone there are noticeable changes in the other layers of overlying skin and fat. Dermal fillers, mostly those made of hyaluronic acid, are used to restore volume and reinflate areas that are deficient.
Emsella
EMSELLA is a great option for anyone, of any age who desires a solution for urinary incontinence and improvement in their quality of life. Due to factors such as the body's normal aging, childbirth, or menopause, the pelvic floor muscles decondition and insufficiently support the pelvic organs. These factors directly correlate with urinary incontinence. A typical treatment takes about 30 minutes and you will need about 6 sessions, scheduled twice a week. You will experience tingling and pelvic floor muscles' contractions during the procedure. You may resume daily activities immediately after the treatment.
Over 200 million people worldwide are affected by incontinence. Are you one of them?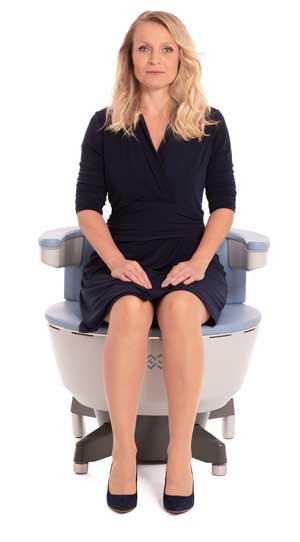 Microneedling (RF and Traditional)
Microneedling, also known as Collagen Induction Therapy (CIT), is a procedure where a pen with very small needles is used to create tiny holes in the top layers of the skin. Treatment is customized depending on the area treated or desired results. Microneedling can be used to improve skin texture and tone, fine lines, wrinkles, scarring including acne scarring, stretch marks, and even skin laxity. The procedure creates a wound response that brings in collagen and elastin fibers which improve the integrity of the underlying skin.
CoolSculpting®
Offering Nonsurgical Fat Elimination with Little to no Downtime in our Salisbury Office Only.
The unique CoolSculpting® fat-freezing technology is a nonsurgical, scientifically proven way to reduce pockets of fat in trouble spots such as the abdomen, flanks, or under the chin in as little as one session.*
CoolSculpting® is FDA-cleared to treat 9 different areas of the body: visible bulges under the chin and jawline areas, thighs, abdomen, and flanks, along with bra fat, back fat, underneath the buttocks, and upper arms.
CoolSculpting® is not a weight-loss treatment—it's the #1 non-surgical fat reduction treatment used by doctors.*
For more information please visit the CoolSculpting® website by clicking HERE.
Emsculpt
EMSCULPT is a non-invasive procedure to efficiently build your muscle. EMSCULPT is non-invasive and requires no recovery time or any pre/post treatment preparation. 30-minute treatments to the buttock or abdomen with a minimum of 4 sessions scheduled 2-3 days apart. You begin to feel tangible results right after the treatment. Positive results are usually reported two to four weeks after the last session and continue to improve for several weeks following the treatments.
Laser Hair Removal
Laser hair removal is a procedure that uses a concentrated beam of light (laser) to remove unwanted hair. This laser emits a light that is absorbed by the pigment (melanin) in the hair. Although laser hair removal effectively delays hair growth for long periods, it usually doesn't result in permanent hair removal. Multiple laser hair removal treatments are needed for initial hair removal (6-12 treatments every 4-6 weeks.) Maintenance treatments might be needed as well. Laser hair removal can be successfully used on all skin types. We ask that patients shave the treated area prior to their first laser appointment. No bleaching, waxing, or plucking for a minimum of 4 weeks prior to treatment. Sun exposure must be avoided for a week post-treatment.
Hand Rejuvenation
Many women are bothered by the aging and appearance of their hands whether it be a loss of volume of the soft tissues (visible veins or tendons), the skin becomes crepey, or has sun damage. The back of the hands will often show a woman's age before their face or even neck. The fractional CO2 laser can be used to rejuvenate and tighten the skin, bring in collagen and improve pigmentation. Radiesse and Restylane Lift are dermal fillers that can be injected to restore the volume that has been lost. Skincare products are used to improve the texture and tone of the skin. Sunscreen should be used to prevent sun damage.
Hydrafacial
Hydrafacial is a non-invasive, 3 step process that uses patented vortex technology to deep cleanse, exfoliate, extract and hydrate your skin. Glucosamine and Lactic acid are used to deep cleanse pores and to reveal healthy new skin. Glycolic acid and Salicylic acid are used to loosen dirt and debris from pores. Vortex suction is used to painlessly draw out impurities. While salicylic acid is pushed back into the skin to kill off any bacteria. Antioxidants, Peptides, and Hyaluronic acid are released back into the skin to nourish, plump, and hydrate.
These Hydrafacial Perks are excellent compliments of the treatment!
Diamond Glow
Diamond Glow is a non-invasive skin resurfacing treatment that delivers radiant, rejuvenated skin with no downtime. The Diamond Glow is suitable for all skin types and is completely customizable to treat your specific skin concerns. Diamond Glow uses 3-in-1 technology that simultaneously exfoliates, extracts debris from pores, and infuses skin with professional-grade Pro-Infusion Serums. All serums are sulphate/sulfite-free, paraben-free, and fragrance-free. The wand used during this treatment actually uses crushed diamonds to exfoliate and extract debris. This treatment is results-driven and pain-free. Your skin will continue to improve up to 72 hours after your treatment. Diamond Glow is a complete treatment, as it includes treatment to the face, neck, delicate eye area, and lips.
Custom Facial
All custom facials include face, neck, and décolleté. Many beauty experts will tell you the face begins at the hairline and extends to the chest; all of our facials include all three areas. Our facials will combine the appropriate treatment to target your skin concerns whether it be anti-aging, acne, rosacea, or pigment, and a relaxing experience to alleviate tension. Your skin will feel rejuvenated and brighter. When Z.O. products are used in combination with our facial treatments it becomes the ideal anti-aging combination! A light chemical peel or microdermabrasion can be added to your facial to amplify your results.
Dermaplane
Dermaplaning is a simple and safe treatment for exfoliating the top layer of the skin. Also, ridding the skin of the fine vellus hair "peach fuzz" and trapped dirt and oils. Perfect for pairing with other treatments to help provide deeper product penetration in the skin. Dermaplaning promotes smoother skin, reduces the appearance of acne scars, and diminishes fine lines and wrinkles. This process provides instant results and no downtime.
Microdermabrasion
Microdermabrasion is a non-surgical and painless treatment that benefits acne, acne scarring, pigmentation, dull-tired skin, stretch marks, fine lines, and wrinkles. The process is completed by a machine that jets thousands of tiny crystals across the skin removing the outer layer of the skin cells. The machine then vacuums the skin removing the dead skin cells. This action then stimulates the blood flow production of collagen and elastin. Which reveals younger and healthier skin.
Chemical Peels
The Stimulator Peel, also known as the 'event peel' requires no skin preparation and can be performed prior to any event with no downtime, or it can be boosted with retinol for added benefits. No recovery times.
The 3 Step Peel is a multi-functional peel that addresses the signs of aging and is ideal for treating sun damage, fine lines, uneven texture, large pores, dull skin, and acne. The skin does require adequate preparation prior to the peel. Recovery time is 5-10 days of peeling. For deeper repair, a series of 3 peels may be needed, 4 weeks apart.
The Mid-Depth Peel corrects multiple skin concerns. It improves the clarity, tone, and texture of the skin, reduces hyper-pigmentation, helps to control acne and improve the appearance of acne scars, reduces the appearance of pore size, softens fine lines and wrinkles, and stimulates the production of collagen and elastin for firmer, brighter and more youthful skin. This peel is virtually painless with little downtime and offers an easy consistent peeling process for all skin types and ethnicities. Skin preparation prior to the peel is not required. Recovery is 3-5 days of peeling. For deeper repair, a series of 3 peels may be needed, 4 weeks apart.
Ultimate Skin Rescue
A three-step treatment that includes Dermaplane, ZO Stimulator Peel, and Microdermabrasion. Designed to target texture, fine lines and wrinkles, sun damage, and more! Promoting smooth, firm, and glowing skin with no downtime.