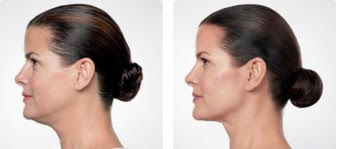 Kybella (deoxycholic acid) is the first FDA approved medication that destroys fat cells. Is a naturally molecule that occurs in the body and aids in the breakdown and absorption of dietary fat. It is used to treat submental fat or the fat that accumulates under the chin (a.k.a. Double chin). It may soon have indications to be used in other areas of the body, studies are ongoing.
Is Kybella safe?
The short answer YES.
The importance of finding someone with experience injecting this product and knowledge of the underlying anatomy is key. If the product is injected too close to the skin tissue breakdown or necrosis can occur.
For clients who choose to treat the jowling, they can develop weakness of the marginal mandibular nerve if inflammation occurs around the nerve but this does resolve. The trade off permanent fat destruction for temporary muscle weakness.
Other areas Kybella is being used:
Upper arm fat (aka Bat wings), Bra fat, Bra Roll, Love Handles, Banana Roll, Around the navel
*Kybella does not take the place of liposuction or surgical procedures to remove skin or fat. Nor does it take the place of a healthy lifestyle.